2 Strap Sandals - Birkenstock
https://www.penningtons.com/en/2-strap-sandals---birkenstock/424250.html
$129.00
The Birkenstock Arizona is a genuine classic that has been delighting both men and women for decades. This simple sandal with two straps stands for timeless design and has long held cult status thanks to its comfort factor.
Features:
- The upper is made from the skin-friendly, hard-wearing synthetic material Birko-Flor
- Contoured cork footbed conforms to the shape of your foot and features pronounced arch support, a deep heel cup,
and roomy toe box; lined with suede
- Lightweight EVA sole for cushioning and shock absorption
- Avoid extreme heat
- Heel shape: flat
100% Polyurethane, Birko-Flor Upper
Imported
All sizes are in inchesmillimeters. View in millimetersView in inches.
Shoe Size
6
6.5
7
7.5
8
8.5
9
10
10.5
11
12
Length

9

230

9 ¼

235

9 ½

239

9 ⅝

244

9 ¾

248

9 ⅞

252

10

256

10 ½

265

10 ⅝

269

10 ¾

273

11 ⅛

282

Width

3 ½

88

3 ½

89

3 ½

90

3 ⅝

91

3 ⅝

92

3 ⅝

93

3 ¾

94

3 ¾

96

3 ⅞

97

3 ⅞

98

4

100

Ankle Circumference

10

252

10

252

10

254

10

254

10

254

10

254

10 ⅛

256

10 ⅛

256

10 ⅛

256

10 ⅛

256

10 ¼

256
HOW TO MEASURE YOUR SIZE: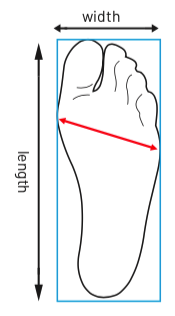 1. Remove shoes and socks, stand on a sheet of paper with feet comfortably aligned to each other at approximately shoulder width apart, and have your body weight evenly distributed between your fee.
2. Using a pencil, gently trace the outline of the foot onto the paper, ensure the pencil is kept vertical. The trace will be more accurately done by someone else.
3. Draw a straight line at the longest toe and at the heel, these two lines must be parallel of each other.
4. Draw a vertical line connecting these two parallel lines with the right angle (90 degree) is your foot length.
5. The foot width is measured by a straight line connecting the widest spot of your foot.
If your measurements fall between two sizes, move up to the larger size for a better fit.
Skechers main point of measurements
Skechers' wide-width sizes are made differently than the Penningtons brand. Click here to download and print our handy size chart for a convenient way to measure your size at home.
Ratings & Reviews
I have wide feet and I have these on the tightest hole. Very comfortable
Kim
Woodstock, Ontario
I'm not sure why other people don't find them wide, but I have tried other Birkenstock's and I am always on the last notch on the strap. I could tighten these to the third notch so I did find them quite wide. They fit great
ML
Saskatchewan
Birkenstock's come in two widths only, regular and narrow. The (regular) in the industry are considered to be a wide width shoe. There is no shoe made by birks marked wide. This is unfortunate but this is how it is. My daughter has one foot that is a triple E and birks are the only sandal she can wear otherwise she would have to get custom made ones. Papillio used to make a regular width but unfortunately have gone to narrow only now. Birks are the best thing you can do for your feet. Once you try them you won't want to wear anything else.
Doggy mom
Halifax
Just a heads up to potentially buyers. These are not wide.
Candice.
Saskatchewan
2 Strap Sandals - Birkenstock
75.0