Belted Ski Jacket - Addition Elle
Plus size ski jacket made from a water repellent nylon exterior and an inner faux-down filling to keep you warm. It also features quilted lining and sealed seams to prevent the air from penetrating. Its design is comprised of a metal buckle belt, a removable faux-fur hood, a removable snow skirt and inner suspenders intended for the jacket to be worn like a backpack.
Features
- Front zipper closure with snap-button placket
- Ribbed cuffs adjustable with snap-buttons
- Zippered pockets at left chest and right sleeve
- Slanted and concealed zipper pockets
- 30.5-in length
- N.B. Black is an online exclusive
Machine wash, inside out, cold water, gentle cycle. Wash similar colors together. Remove promptly from washer and put in dryer.
Do not bleach.
Dry inside out at low temperature. Add clean tennis balls in dryer to fluff the down.
Do not iron.
Do not dry clean.
Size Conversion Chart
Size
X
1X
2X
3X
4x
5X
6x
14
16
18
20
22
24
26
28
30
32
34
Bust
42

in

44

in

46

in

48

in

50

in

52

in

54

in

56

in

58

in

60

in

62

in

Waist
34

in

36

in

38

in

40

in

42

in

44

in

46

in

48

in

50

in

52

in

54

in

Hips
44

in

46

in

48

in

50

in

52

in

54

in

56

in

58

in

60

in

62

in

64

in
Size
X
1X
2X
3X
4x
5X
6x
14
16
18
20
22
24
26
28
30
32
34
Bust
107

cm

112

cm

117

cm

122

cm

127

cm

132

cm

137

cm

142

cm

147

cm

152

cm

157

cm

Waist
86

cm

91

cm

97

cm

102

cm

107

cm

112

cm

117

cm

122

cm

127

cm

132

cm

137

cm

Hips
112

cm

117

cm

122

cm

127

cm

132

cm

137

cm

142

cm

147

cm

152

cm

157

cm

162

cm
*6X available in select stores
HOW TO MEASURE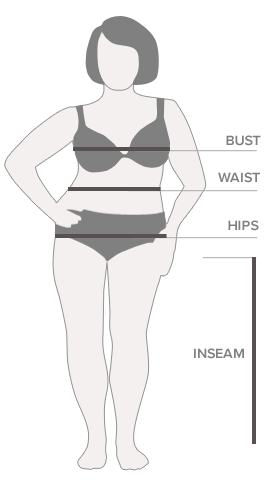 HEIGHT
Stand barefoot with a straight posture.
Regular - For women 5' 4" - 5' 7"
Petite - For women 5' 4" and under. Sleeves are slightly shorter. The body is adjusted proportionately throughout. Pant inseams are 3" to 4" shorter than regular (capris 2" shorter than regular).
Tall - For women 5' 7" and taller. Sleeves are slightly longer. The body is 1" longer. Pant inseams are 2" longer than regular.
BUST
Measurement does not pertain to bra size. Wrap a tape measure under arms, keeping the tape comfortably loose. Measure around the fullest part of the bust. Ensure that the tape measure is parallel to the floor.
WAIST
Keeping the tape measure comfortably loose, measure around the smallest area of your waist.
HIPS
With feet together and keeping the tape measure comfortably loose, wrap the tape measure around the fullest part of the hips.
INSEAM
Stand with your shoes on and measure from the crotch to the bottom of the shoe.
For best results, take measurements over your undergarments.
Always hold the tape measure comfortably loose.
Ratings & Reviews
Beautiful jacket but not normal sizing
Vendyl
Ontario
This parka needs some revision!
I liked the colour, black. Far too many fiddly bits inside the parka. I didn't like the "skirt" that fastens inside. The zipper was sturdy.
Karen
Winnipeg, Mb.
I love it - colour, sizing and length
I think this coat is perfect as a winter adventure coat (skiing, snow tubing, sledding, snowmobiling, etc.) Its warm so that adds a bit of weight to the jacket but honestly was expecting something that felt like heavy brick by some of the descriptions. The fur does come off (zips off), the hood does not and I think some people expected the hood to come off (again going by reviews). The belt is stretchy which helps define some sort of waist which is hard in any winter coat. I found the sizing very accurate. I got the blue and the colour is loud but beautiful.
Branvan
London, ON
Truly warm! Many convenient pockets!
This is the right jacket to fight real cold. The fabric is also waterproof, so the jacket can be used in all kinds of winter conditions. The fur on the hood can be removed, if desired. Fabulous jacket!
claimed1
Saskatoon, SK
Warmest jacket I have ever owned!
I LOVE this jacket!! Not only does it look gorgeous, and is in my favourite colour (red!), but it fits really well and is exceptionally warm! I love the inner straps that allow you to wear it like a backpack when you are shopping indoors (because it would be WAY too hot to wear inside!). The double zippers ensure no wind gets through, and the snow skirt is an added bonus. The hood is huge - too huge for me, but that is always my problem with hoods), but it is really cozy. No need to even wear a scarf with this jacket, as the inner zipper zips up right to your chin for a snug (but not choking) fit. The only thing I would change on this jacket would be for the belt to be a bit tighter, but that isn't even really an issue and doesn't affect my 5 star rating. I highly recommend this jacket!! Oh, and I went up a size because I wanted to ensure it wasn't tight across my belly, and in case I wanted to wear a sweater underneath.
Red
Ottawa ON
After making a special trip to the store to check out this jacket, I left underwhelmed, and empty handed. Although the red and blue colours are rich and vibrant, and the jacket is generally aesthetically pleasing, there are other details which cause this jacket to fall short. The "metal belt buckle" described is actually made of plastic, and on a cold day, would be sure to snap. In addition, the "removable snow skirt" is not actually removable. You could wear the jacket without "using" the snow skirt, but it's not removable. A neat feature are the suspended straps that allow you to wear the jacket like a backpack, but that's really it in the way of "cool" features.
Nicole
Dartmouth
I love this jacket , it fits great I love the color and it is so nice and warm
Annie
Oxford NS
Fit was small and coat was bulky and heavy. Had to return. Colour was beautiful
Suz
NL
Very bulky and heavy.
Kellie
Little Britian
Lovely jacket, beautiful blue colour, seems warm, but...
I normally wear a size 3x in tops; ordered this in a 4x since it was outerwear and I wanted to be able to wear a sweater underneath but no such luck. Even with a thin shirt, this jacket was too snug across the shoulders and hips for comfort. It would have made driving a uncomfortable and so it had to be returned. I'm guessing the two things that made a difference were the double layered zippers which add a lot of bulk and the "snow skirt" at the hips. The description says the "snow skirt" is removable, but it is not. The description also says the faux fur hood is removable, but what is removable is the fur, not the hood. It's a shame. I loved this coat but not willing to keep a coat that's too snug. Wish it came in a 5x.
Dee
Hamilton
Manteau de ski avec ceinture - Addition Elle
81.5