Extra Wide Calf Tall Boots with Studs
https://www.penningtons.com/en/extra-wide-calf-tall-boots-with-studs/412171.html
A perfect addition to your boot collection! They feature:
-Extra wide calf
-Wide width
-Faux-leather design
-Metallic studs at side
-An insole made of twill that offers comfort, and an outer sole with thermal insulation and durable OrthoLite support
-Height: 1 5/8"
textile, rubber
Imported
Extra Wide Calf: Generous Fit For Larger Calves (19 ½" - 20 ½")
All sizes are in inchesmillimeters. View in millimetersView in inches.
Shoe Size
6
6.5
7
7.5
8
8.5
9
10
10.5
11
12
Length

9

230

9 ¼

235

9 ½

239

9 ⅝

244

9 ¾

248

9 ⅞

252

10

256

10 ½

265

10 ⅝

269

10 ¾

273

11 ⅛

282

Width

3 ½

88

3 ½

89

3 ½

90

3 ⅝

91

3 ⅝

92

3 ⅝

93

3 ¾

94

3 ¾

96

3 ⅞

97

3 ⅞

98

4

100

Ankle Circumference

10

252

10

252

10

254

10

254

10

254

10

254

10 ⅛

256

10 ⅛

256

10 ⅛

256

10 ⅛

256

10 ¼

256
HOW TO MEASURE YOUR SIZE: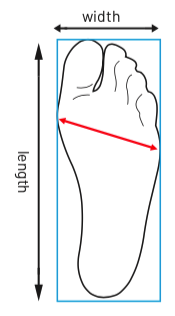 1. Remove shoes and socks, stand on a sheet of paper with feet comfortably aligned to each other at approximately shoulder width apart, and have your body weight evenly distributed between your fee.
2. Using a pencil, gently trace the outline of the foot onto the paper, ensure the pencil is kept vertical. The trace will be more accurately done by someone else.
3. Draw a straight line at the longest toe and at the heel, these two lines must be parallel of each other.
4. Draw a vertical line connecting these two parallel lines with the right angle (90 degree) is your foot length.
5. The foot width is measured by a straight line connecting the widest spot of your foot.
If your measurements fall between two sizes, move up to the larger size for a better fit.
Skechers main point of measurements
Skechers' wide-width sizes are made differently than the Penningtons brand. Click here to download and print our handy size chart for a convenient way to measure your size at home.
Ratings & Reviews
I love the look either in the office or with skinny jeans
Denise
Pigeon hill, NB
I would definitely buy these boots again.
These boots are perfect. I find them to be really comfortable and when I put them on I don't want to take them off. I really liked that I was able to buy them in store so I was able to try them on.
Judy
Belleville Ontario
The extra wide calf makes it easy to do up. However, the ankle part of the boot could be a little bit wider as well. A fuller leg usually has a larger ankle, so after wearing it for a full day, it does get a bit uncomfortable. It looks great on. Got alot of compliments on it.
wiskeygirl75
Halifax, NS
These boots are nice but the design is seriously flawed. As a plus size person it's very hard to find boots that fit properly in regular shoe stores. Having stretch fabric at the back of this boot is awesome. However, since the fabric does stretch, the calf does not need to be as big as it is. If a boot doesn't hug your calf properly it looks sloppy and unflattering. I am keeping these reluctantly since I purchased them by ordering through the store on line and I wanted to return them but was told that I couldn't get my $25 dollar reward certificate I used when I made the purchase reimbursed if I did so. I would have lost it unless I kept these. I'm going to have to see if a seamstress can take them in so they aren't slouch boots. I know these are supposed to be extra wide, but I really don't know anyone who would fit into these properly. This also happened with the crushed velvet knee high boots I purchased here last year. These constantly fall down so I don't wear them. I hope the designers will take this into consideration in the future.
The Girl in the Green Scarf
Windsor
I always find it hard to find wide calf boots & I think I have a bigger ankle as well. Tried on a lot of the boots this year that unfortunately didn't fit right but I went to these and loved them right away!! Bought three pairs last year from penningtons with somewhat of a similar style to these , (with think meshy parts that give the extra stretch). Very comfy to walk in as this is padded. I am 5'2" and of course they're a tall boot which comes up above my knee which Im not complaining about, very cute.. I do need the double wide calf but the only thing about the boot is that it is very wide around my knee because I am a lot smaller in that area, I just have very big calfs.. I also get to wear black boots (as plain as possible) for work and these could definitely pass for style and comfort.
k
NL
Flattering boot for the price. Stylish and comfy. Wish they didn't sell it so fast- I would have bought the other colour too!!
Loving fall!
Kitchener, Ontario
Way bigger than specified
My calves measure 19.5 inches exactly so I ordered these because they are supposed to fit 19.5" to 20.5"calves. These are much bigger, extremely baggy and ridiculous looking. Disappointed because I bought the same size last year and they fit as they were supposed to, although they had fallen apart by the end of the season.
Kelly
Brantford, ON
Extra Wide Actually Is Wide!
I finally found a boot that fits my calf with room to spare!
Valerie
London Ontario
Extra Wide Calf - Perfect For Me
It's unfortunate so many didn't read the boot description, about the wide calf or the actual calf measurement under the product details and then rating it low because the product is what it says it is. I bought a black pair, they look great and feel great. Wintertime I'll prolly just wear inside the office and go home with a practical snow boot on walking from the car to the door. They don't look like they'll stand up to the salt and slush on the sidewalk and streets, maybe a season or two. But then hopefully there will be another fashionable extra wide calf boot just right for me.
killa
winnipeg
I find all your boots pretty frustrating. The so-called wide calf boots never fit me and these ones I bought that I can zip up.. they slide down all the time. Waste of my money
Shawnna
Winnipeg, Mb
Extra Wide Calf Tall Boots with Studs
68.2