Extra Wide Calf Tall Faux-Suede Boots
https://www.penningtons.com/en/extra-wide-calf-tall-faux-suede-boots/414286.html
A perfect addition to your boot collection! They feature:
-Wide calf
-Wide width
-Faux-suede design
-Zip at side
-An insole made of twill that offers comfort, and an outer sole with thermal insulation and durable OrthoLite support
-Height: 1 5/8"
100% polyurethane
Imported
Extra Wide Calf: Generous Fit For Larger Calves (19 ½" - 20 ½")
All sizes are in inchesmillimeters. View in millimetersView in inches.
Shoe Size
6
6.5
7
7.5
8
8.5
9
10
10.5
11
12
Length

9

230

9 ¼

235

9 ½

239

9 ⅝

244

9 ¾

248

9 ⅞

252

10

256

10 ½

265

10 ⅝

269

10 ¾

273

11 ⅛

282

Width

3 ½

88

3 ½

89

3 ½

90

3 ⅝

91

3 ⅝

92

3 ⅝

93

3 ¾

94

3 ¾

96

3 ⅞

97

3 ⅞

98

4

100

Ankle Circumference

10

252

10

252

10

254

10

254

10

254

10

254

10 ⅛

256

10 ⅛

256

10 ⅛

256

10 ⅛

256

10 ¼

256
HOW TO MEASURE YOUR SIZE: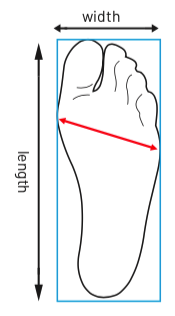 1. Remove shoes and socks, stand on a sheet of paper with feet comfortably aligned to each other at approximately shoulder width apart, and have your body weight evenly distributed between your fee.
2. Using a pencil, gently trace the outline of the foot onto the paper, ensure the pencil is kept vertical. The trace will be more accurately done by someone else.
3. Draw a straight line at the longest toe and at the heel, these two lines must be parallel of each other.
4. Draw a vertical line connecting these two parallel lines with the right angle (90 degree) is your foot length.
5. The foot width is measured by a straight line connecting the widest spot of your foot.
If your measurements fall between two sizes, move up to the larger size for a better fit.
Skechers main point of measurements
Skechers' wide-width sizes are made differently than the Penningtons brand. Click here to download and print our handy size chart for a convenient way to measure your size at home.
Ratings & Reviews
For a night out with the girls and it was comfortable
Carol
Ottawa
I would buy this product again
Boot fit like a glove. Nice sole and material
Susie
Halifax, NS
Love the width of top part of boot, loved the price and of course the look of the.
Ker
Bath, ontario
Worm, cormfortable highly recomended
maelw
Edmonton, AB
Well Iam actually really impressed with these boots! They are far better quality than Penningtons boots the last couple years(my last pair fell apart by February and were bought for Christmas!). These fit beautifully I do recommend sizing up for a wide foot though and are warm in all conditions!
Kristi
Prince Edward Island
Stylish and warm. Very comfortable.
Rika
Edmonton
You can wear for casual or business. They are very comfortable and warm.
Gilligan
Barrie, ON
I love these boots. My only suggestion if you are ordering online, order a size smaller. They are wider than most boots. I normally take an 8 but bought them in a 7. They do wide calves right 👍
Sheri
Thunder Bay, ON
I've gotten multiple pairs of boots from here, but I couldn't even zip these up all the way.. pretty disappointed. They are also very much fleece lined!
KristineM
Edmonton
These boots are extra wide calf, also wide on the foot and ankle. I normally fit into a 9W but in these boots I fit comfortably in a 8W. These boots have a soft plush lining to keep your feet and legs warm for the winter. I love them so much I bought 2 pairs.
Lucie D
Barrie On.
Bottes hautes en similicuir avec coutures décoratives, mollets extra larges
100.0