Floral Design Necklace
https://www.penningtons.com/en/floral-design-necklace/30510539.html
Promotions
$18.00
Go for a fine, floral touch! This gorgeous necklace includes a floral design for a unique and stylish look. Length: 18" + 3" extension
Size Conversion Chart
Size
X
1X
2X
3X
4x
5X
6x
14
16
18
20
22
24
26
28
30
32
34
Bust
42

in

44

in

46

in

48

in

50

in

52

in

54

in

56

in

58

in

60

in

62

in

Waist
34

in

36

in

38

in

40

in

42

in

44

in

46

in

48

in

50

in

52

in

54

in

Hips
44

in

46

in

48

in

50

in

52

in

54

in

56

in

58

in

60

in

62

in

64

in
Size
X
1X
2X
3X
4x
5X
6x
14
16
18
20
22
24
26
28
30
32
34
Bust
107

cm

112

cm

117

cm

122

cm

127

cm

132

cm

137

cm

142

cm

147

cm

152

cm

157

cm

Waist
86

cm

91

cm

97

cm

102

cm

107

cm

112

cm

117

cm

122

cm

127

cm

132

cm

137

cm

Hips
112

cm

117

cm

122

cm

127

cm

132

cm

137

cm

142

cm

147

cm

152

cm

157

cm

162

cm
*6X available in select stores
HOW TO MEASURE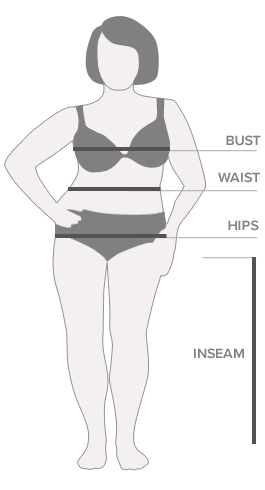 HEIGHT
Stand barefoot with a straight posture.
Regular - For women 5' 4" - 5' 7"
Petite - For women 5' 4" and under. Sleeves are slightly shorter. The body is adjusted proportionately throughout. Pant inseams are 3" to 4" shorter than regular (capris 2" shorter than regular).
Tall - For women 5' 7" and taller. Sleeves are slightly longer. The body is 1" longer. Pant inseams are 2" longer than regular.
BUST
Measurement does not pertain to bra size. Wrap a tape measure under arms, keeping the tape comfortably loose. Measure around the fullest part of the bust. Ensure that the tape measure is parallel to the floor.
WAIST
Keeping the tape measure comfortably loose, measure around the smallest area of your waist.
HIPS
With feet together and keeping the tape measure comfortably loose, wrap the tape measure around the fullest part of the hips.
INSEAM
Stand with your shoes on and measure from the crotch to the bottom of the shoe.
For best results, take measurements over your undergarments.
Always hold the tape measure comfortably loose.
mblm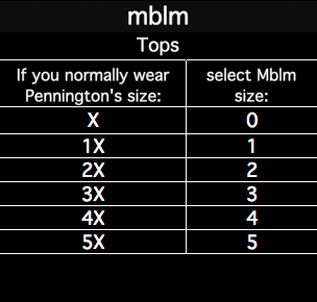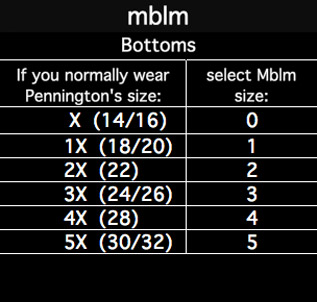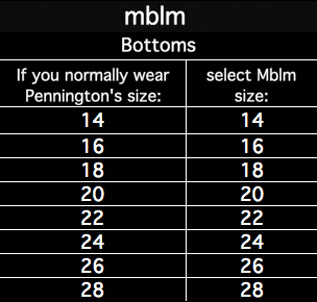 Melissa McCarthy's collection offers sizes that are designed differently than our Penningtons brand. Use our size chart to find your perfect fit!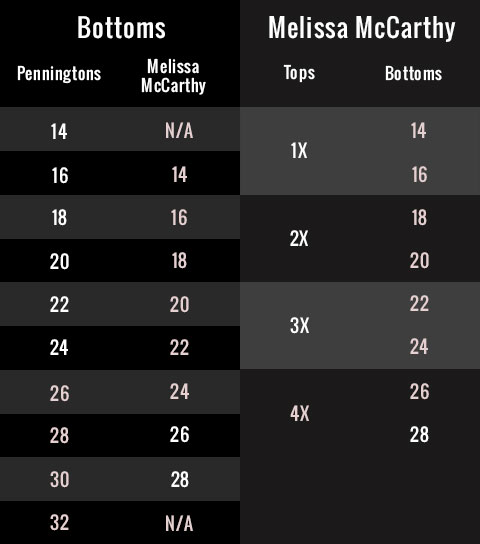 Ratings & Reviews
I found this too big and cheap looking for my style.
Nonnie
Ottawa, On
I have several necklaces from Penningtons and I love every one of them
Anne Marie
Brockville Ontario
Love this very pretty necklace. It will look great with my dress for a wedding this summer. Can also wear it for less formal occasions.
Anne
Moncton nb
I would buy product again
Perfect for informal night out with friends. There was a slight problem with one of the links that made a flower curve awkwardly. However it still looked good.
ChicChick
Saskatoon
Great fit
None
Kitchener ont
Floral Design Necklace
80.0