High-Impact Padded Sports Bra - adidas
This plus size adidas sports bra provides the support and comfort you need to help you tackle your workouts. The adjustable crossback straps and foam pads enhanced with stabilizer inserts help prevent back fatigue and reduce bouncing from running and jumping. Ideal for your kickboxing or spinning class, this high support bra is an essential to keep in your gym bag.
Fit & Cut:
- Molded padded cups with built-in stabilizers
- Center front zip with high neck
- Perfect for high-intensity workout sessions
Straps & Hooks:
- Adjustable crossback padded straps
Features:
- Breathable power mesh overlay
- Moisture-absorbing AEROREADY technology
- Brushed elastic hem to help reduce friction
- Sleek design with Adidas logo
About adidas:
Known as the brand with 3-stripes deeply rooted in the realm of sports, adidas strives to be the best sportswear company in the world. Over the years, this famous German brand has become a staple in the sporting goods industry and fashion world alike. Worn by athletes and celebrities, it has translated into a lifestyle. Adidas creates innovative designs to help you perform better and look cool wearing plus size basic tees, hoodies and leggings all marked with the brand's iconic 3-Stripe logo.
79% Polyester, 21% elastane
Imported
Please enter your measurements
CROSS SIZING
Cross sizing may be required if the style of bra that you are interested in is not available in your size. (Not suitable for every body. Depends on the breast and the shape.)
Cross sizing can differ depending on the customer's body type.
Customers with a thicker under bust section should cross-size up the band and reduce the cup size.
Customers with a fuller bust should size up the cup size, but reduce the band size.
Example: For a customer who wears size 42D if she has a thicker under bust section, the best cross-size should be size 44C. If she is fuller in her bust and not so thick in her under bust, the best cross- size would be 40DD.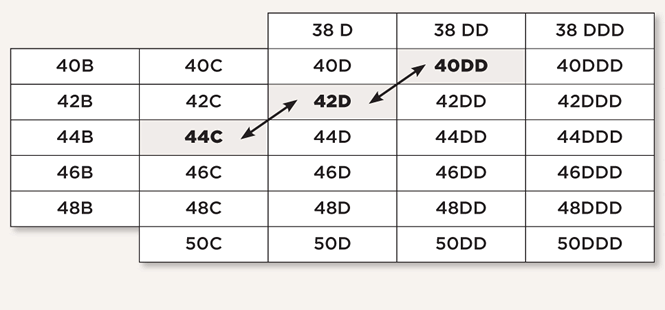 Ratings & Reviews
Great support.
JANIE
Sturgeon PEI
I read the reviews o line for this bra and saw that a lot of them said that the customer found them big... they wore a 40E normally and needed to buy a 40G. That makes me go I to the store to actually try it on and it DOES NOT need to be sized down. It is perfect to fit, in fact it is tight. I personally love it. It holds the girls where they should be and its easy to put on and off with the front closure. Its pricey but worth it if you are very/moderately active.
Sweetvidalia
Ottawa, ON
I love my new bra! It has great support for all my running/walking that I do each day! I will definitely buy this bra again and recommend to everyone.
Mammabear
Smiths Falls, On
Cannot believe I finally found a sports bra that works & one that I can get on all in one package! Only downside, no color choices.
Flexy
Edmonton, Alberta
I absolutely LOVE this bra! Once I tried it on I never wanted to take it off! It's the most comfortable and SUPPORTIVE sports bra I have ever tried ! I am defiantly considered plus size and finding a bra that fits my bust is incredibly difficult, but I highly recommend this one👌😁👍 Regular bra size - 40G This bra I fit a - 40E
Jennifer
Port Colborne
This sports bra is everything Ive searched for. Perfect coverage and fit. I plan on buying another.
Nikki
Thunder Bay
It supports so well. This is the first time I ever only had to wear one bra for a work out. Nothing moves. It was a bit difficult to put on at first but after a couple times it has become easier.
Jenna
Fort st john BC
Couldn't get bra snaps closed therefore could not get zipper to zip up.
Debbee
Oshawa
I wear a 38G to and H cup in a bra. I tried this on instore and the 38E fit me the best. I am very full on the bottom of my breast but not the top and found to much gaping in G cup! Love the criss-cross strap. Alleviates alot of pressure of the shoulder and helps with my neck. Prefect support, reduces the jiggle when walking, I wear it all the time. Doing it up in the front is a bit of a task but once you get the hang of it, your good to go. Highly recommend.
Randa
NS
not great for heavy breasts
Bra fits well, but is not enough support for heavy breasts. I've only worn it around the house, not even working out, and I find the cross strap rides up and puts lots of pressure on my lower neck. Buy an Enell instead!
shelly
Lloydminster