High-Impact Padded Sports Bra - adidas
This plus size adidas sports bra provides the support and comfort you need to help you tackle your workouts. The adjustable crossback straps and foam pads enhanced with stabilizer inserts help prevent back fatigue and reduce bouncing from running and jumping. Ideal for your kickboxing or spinning class, this high support bra is an essential to keep in your gym bag.
Fit & Cut:
- Molded padded cups with built-in stabilizers
- Center front zip with high neck
- Perfect for high-intensity workout sessions
Straps & Hooks:
- Adjustable crossback padded straps
Features:
- Breathable power mesh overlay
- Moisture-absorbing AEROREADY technology
- Brushed elastic hem to help reduce friction
- Sleek design with Adidas logo
About adidas:
Known as the brand with 3-stripes deeply rooted in the realm of sports, adidas strives to be the best sportswear company in the world. Over the years, this famous German brand has become a staple in the sporting goods industry and fashion world alike. Worn by athletes and celebrities, it has translated into a lifestyle. Adidas creates innovative designs to help you perform better and look cool wearing plus size basic tees, hoodies and leggings all marked with the brand's iconic 3-Stripe logo.
79% Polyester, 21% elastane
Imported
Please enter your measurements
CROSS SIZING
Cross sizing may be required if the style of bra that you are interested in is not available in your size. (Not suitable for every body. Depends on the breast and the shape.)
Cross sizing can differ depending on the customer's body type.
Customers with a thicker under bust section should cross-size up the band and reduce the cup size.
Customers with a fuller bust should size up the cup size, but reduce the band size.
Example: For a customer who wears size 42D if she has a thicker under bust section, the best cross-size should be size 44C. If she is fuller in her bust and not so thick in her under bust, the best cross- size would be 40DD.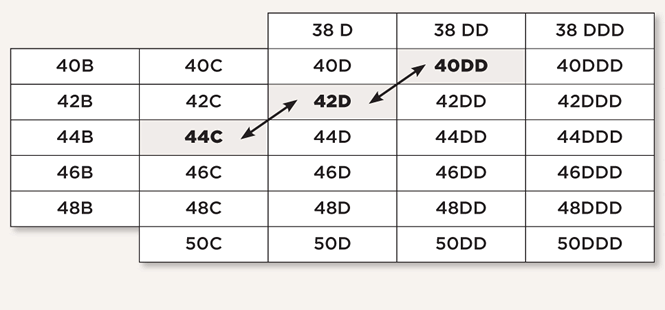 Ratings & Reviews
So glad I bought this bra!
Inga
Medicine Hat
The snaps at the front pop open while exercising. I will return this very expensive item.
Flori
Bradford
I love the bra...very comfortable...no underwire. Do not like the clips inside behind the zipper - as they are difficult to open and close while bra is on.
Nel
Surrey, BC
I was excited to read about a new bra option from Penningtons (especially a firm support sports bra!!). Then I used their sizing to find out it doesn't come in my size.... just like ALL of their other bras. I am 2x/3x in their tops but not one of the bras sold at Penningtons has ever had a large enough cup size for me.
Ann
Summerside
I was skeptical of a bra with a zipper in the front, but it's sooo comfortable. Really soft and keeps the ladies strapped down! I love the length of this bra too, as it comes further down the torso than other bras I've worn in the past. I mostly do Orange Theory and started jogging on the treadmill portions and this bra has made a huge difference. Pricey but worth it. Definitely give it a try if you're on the fence! For reference I wear 40D,I'm 5'7" ~240.
Steph
Toronto
Definitely purchase again
This sports bra is awesome while working out. Keeps the girls from bouncing around and causing more stress in your back
The Bomb
Saskatoon
Most comfortable bra ever!
Once I figured out how to use the hooks to get into the bra I realized that it is the most comfortable bra ever. I'm not into sports but I love this bra.
Margielaine
Brantford Ontario
Not for big chested women
I do not recommend this product. I tried on this bra in store. Being a woman of medium frame and size G/H this bra did not work. A zipper in the front to put on the bra? Come on people. Where are the ladies supposed to go while you try to do up the zipper. They are in the way and so much pressure is on the zipper that there is no way of doing it up. Very poor design choice and this is not meant for bigger chests. Please bring back the active zone bra style 402759 that was the best for bigger chests. This zipper in the front bra does not work.
Kris
Saskatchewan
Soutien-gorge sport coussiné à maintien élevé - adidas
60.0