Marled Wireless T-Shirt Bra
This wirefree t-shirt bra provides an ultimate fit subtlety under your clothes and ensures a full coverage.
Lift & Support:
- Inner construction that provide a great support without wire
Straps & Hooks:
- Cushioned straps for added comfort
- Sliders allow for ease of strap adjustment
- 3 x 4 hook closure for a secure, comfortable fit
- U-back
Features:
- Marled
- Satin elastic
53% polyester, 36% nylon, 11% elastane
Imported
Hand wash, lukewarm water. Wash similar colors together.
Do not bleach.
Hang to dry.
Do not iron.
Dry clean.
Please enter your measurements
CROSS SIZING
Cross sizing may be required if the style of bra that you are interested in is not available in your size. (Not suitable for every body. Depends on the breast and the shape.)
Cross sizing can differ depending on the customer's body type.
Customers with a thicker under bust section should cross-size up the band and reduce the cup size.
Customers with a fuller bust should size up the cup size, but reduce the band size.
Example: For a customer who wears size 42D if she has a thicker under bust section, the best cross-size should be size 44C. If she is fuller in her bust and not so thick in her under bust, the best cross- size would be 40DD.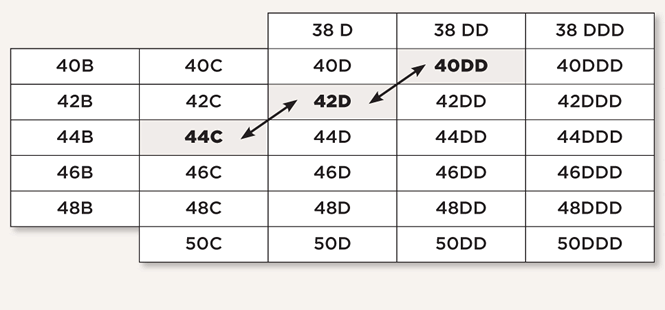 Ratings & Reviews
I would buy this product again
Very comfy fit
Ben
Edmonton
Not as comfortable as I thought it would be
Andi
Kelowna
The boning in the side of this bra dug in to the side of my skin. I had to take it off after 1 hour
Dina
Toronto, Ontario
I bought this bra about a month ago. I have some bralettes so I thought I would try this one. This bra has boning in the sides and OMG does it ever stick in!!! I have worn the bra maybe 4 times and today I had enough. I had to go and cut them out! The bottom band is terrible and so uncomfortable. I bought the size I normally wear and the fit was just not right. Not a good purchase
Elizabeth
Summerside
Best bra ever I wish they came in different colours. The side boning is great it stops the sides from falling.
Terry
Georgetown on
Would be a perfect bra except...
Great wireless bra but for some reason the side straps have plastic boning which do nothing but dig into your sides
dc2xist
Calgary
Overall this bra fits quite well. The cup size is good. The side boning is a pain, and I'll be cutting the fabric open to remove and then sewing it back up. The side boning pokes out and doesn't lie flat. It would have been a great bra without the side boning. I find the straps a little short as someone else mentioned below but not to the same point they showed in their picture. Overall, I'd recommend going into the store and being fitted. I won't be buying anymore bras online.
LisB
Toronto, ON
Shortest straps ever-total fail
What's the point of padded straps if padded portion ends on top of the shoulder? The slide is resting right on the top of my clavicle. I have a different model Ti Voglio and the padded strap (and overall strap length) is much longer. Where the seams meet are quite bulky. On one side the boning lays flat, on the other it bulges/buckles and is so uncomfortable. Due to COVID shutdowns bought this online. The bra is just poorly designed and poorly constructed, very disappointing.
WpgGurl
Winnipeg
I wish there were some way to make a plus sized bra without side boning. If I wear this bra on the weekend when I'm not working it's very comfortable however, I work at a job where I'm constantly moving, raising my arms up, etc and the side boning pokes me, rounds out and rubs on the inside of my arms making it really uncomfortable. I'm constant trying to bend the boning the other way just to make it to the end of my shift.
Lisa
Kingston, ON
Marled Wireless T-Shirt Bra
50.0