ONLINE ONLY - Wide Width Stripped Thong Sandals - Skechers
https://www.penningtons.com/en/online-only---wide-width-stripped-thong-sandals---skechers/406998.html
Perfect for everyday! Warm weather-ready, these wide-width thong sandals from Skechers offer smooth faux-leather design with a cushioned Memory Foam footbed and soft fabric thongs. With a stripped print, you're ready to take on the warm weather in style!
All sizes are in inchesmillimeters. View in millimetersView in inches.
Shoe Size
6
6.5
7
7.5
8
8.5
9
10
10.5
11
12
Length

9

230

9 ¼

235

9 ½

239

9 ⅝

244

9 ¾

248

9 ⅞

252

10

256

10 ½

265

10 ⅝

269

10 ¾

273

11 ⅛

282

Width

3 ½

88

3 ½

89

3 ½

90

3 ⅝

91

3 ⅝

92

3 ⅝

93

3 ¾

94

3 ¾

96

3 ⅞

97

3 ⅞

98

4

100

Ankle Circumference

10

252

10

252

10

254

10

254

10

254

10

254

10 ⅛

256

10 ⅛

256

10 ⅛

256

10 ⅛

256

10 ¼

256
HOW TO MEASURE YOUR SIZE: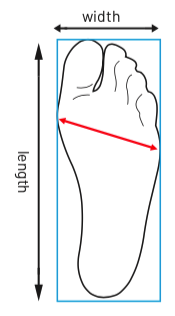 1. Remove shoes and socks, stand on a sheet of paper with feet comfortably aligned to each other at approximately shoulder width apart, and have your body weight evenly distributed between your fee.
2. Using a pencil, gently trace the outline of the foot onto the paper, ensure the pencil is kept vertical. The trace will be more accurately done by someone else.
3. Draw a straight line at the longest toe and at the heel, these two lines must be parallel of each other.
4. Draw a vertical line connecting these two parallel lines with the right angle (90 degree) is your foot length.
5. The foot width is measured by a straight line connecting the widest spot of your foot.
If your measurements fall between two sizes, move up to the larger size for a better fit.
Skechers main point of measurements
Skechers' wide-width sizes are made differently than the Penningtons brand. Click here to download and print our handy size chart for a convenient way to measure your size at home.
Ratings & Reviews
Comfy and soft
Queen
Edmonton Alberta
Great replacements for the ones my new pup chewed up! Always comfortable and a great fit. Sketchers have never let me down!
Samma
Calgary
most comfortable sandal ever. I have arthritis in both knees & these sandals really help take the pressure off my knees when I am walking.
pattie
Paradise, NL
Most comfortable sandals .
Babaruth
winnipeg
Too bouncy and roomy and hard to walk in.
If they fit you just right they might be okay, but the straps were too loose and the sandals slipped around on my feet. The memory foam is very spongy and made walking sort of weird feeling. Also, one of the straps that goes between your toes was scratchy on the inside and irritated my foot. They are a nice color though, and the striped straps are a nice detail and very wide.
Jackalina
British Columbia
Great fitting, true to size -wide, colour is fabulous and the memory foam bottom is comfy . I just wish that these shoes would be carried in the winter months as well ,as its difficult to find flip flops for winter get a ways to the Caribbean .
Jenn
Mont qc
Would not buy these again
Fit feels terrible they hurt to wear
Bees
Medicine Hat
These sandals are stylish and supportive with their thicker sole. A good test was to walk in them on cement flooring in the hardware stores with hubby. Normally my back would be aching in my other sandals but not so with these Skechers. Used to have Skechers athletic shoes and they were amazing for support too so after purchasing 2 pairs at Addition Elle I knew it was all good. No more sore back or aching legs with these. Yes they have a little height to them but the thickness is the best for summer time long walks. The sizing is just right too. I normally wear a size 8W and this purchase was the same size and fit without any issues.
KicheeKoo
Maritimes
Very comfy however could be a tad wider or perhaps offer 1/2 sizes
Nickname for who?
Bowmanville
I am very happy with my flip flops , I normally cannot wear flip flops because of the material between the toes, or the footbed is too hard. But with the memory foam footbed, and the soft material used between the toes.I am able to enjoy wearing these very comfortable and wide with flip flops. Thank you sketchers for making such a comfortable summer footwear.👍♥️
Dimay
Alberta, Canada