Padded Wireless Bra - ti Voglio
This is Eva: no wires, just a sleek silhouette! The stretchy fabric and cushioned straps on this padded wireless bra ensure everyday comfort and seamless shaping. It features molded padded cups for a smooth fit that enhances the bust line, wide adjustable and cushioned straps and power mesh back wing to provide lift and support, as well as a classic hue. Size 50 & 52. Pairs perfectly with any plus-size panty from our collection! Also available in Regular and G & H cups.
About ti Voglio
Constructed uniquely for the curvy figure and combining feminine confidence and detail, ti Voglio lingerie is made for women who love and deserve options. After all, it's what's underneath that counts.
85% nylon, 15% elastane
Imported
3 rows of 5-hook and eye closures
Hand wash, lukewarm water. Wash similar colors together.
Do not bleach.
Hang to dry.
Do not iron.
Dry clean.
Please enter your measurements
CROSS SIZING
Cross sizing may be required if the style of bra that you are interested in is not available in your size. (Not suitable for every body. Depends on the breast and the shape.)
Cross sizing can differ depending on the customer's body type.
Customers with a thicker under bust section should cross-size up the band and reduce the cup size.
Customers with a fuller bust should size up the cup size, but reduce the band size.
Example: For a customer who wears size 42D if she has a thicker under bust section, the best cross-size should be size 44C. If she is fuller in her bust and not so thick in her under bust, the best cross- size would be 40DD.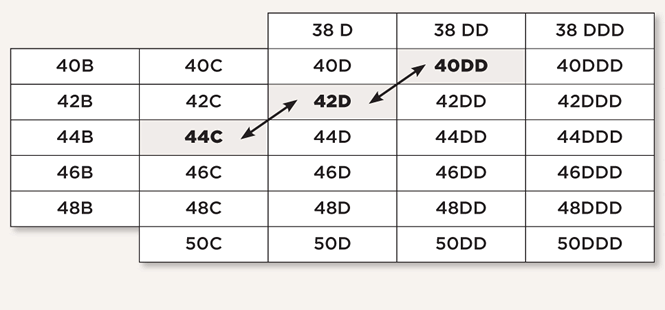 Ratings & Reviews
comfortable fit. great with Tee shirts
Deborah
Essex
Very comfortable bra, will probably buy again.
I am liking this bra very much. It did take practice to get used to doing up FIVE hooks, but otherwise, it's easier to put on because the t-shirt style stays put while you work on the hooks. People keep asking if I am wearing a new shirt, but no, it's the new bra.
Bionic Jo
Calgary, AB
I have finally found a padded Bra that fits properly.
CC
Toronto
I wear a 52 double D and this is the only wirefree bra available. I would love to have more options! I don't like that they are padded because my girls are already big; I don't need them to look bigger!
Rosa
Whitby ON
I bought this bra one day in the nude colour, along with some strapless and underwire bras. Loved this one so much I went back and bought two more! These are my go-to daily bras for work, or any event. They fit and feel like a dream, and I just throw them in the laundry with my regular load. Have had them for years now, daily wear, still great! Highly recommend.
Shayna
Winnipeg
This is a very comfortable bra. Just make sure to try them on because I do find you need to go down a cup size from your measurements. They wash well and last well.
Hate bra shopping
Halifax
An extremely disappointed customer
Bought 4 of these in 52DD and was extremely disappointed when the cup size was way to big!! I had to take them to my local store to return! I was so happy that they had the larger band size and I'm a DD but when I returned them the girl at our store told me that when they increase the band size they also increase the cup size...which doesn't make sense to me! If I am a DD then they should all fit me...but these didn't and they are not like the smaller band width...they are not soft or comfortable so I will continue to use extenders until you get them in at the stores. Which I was told that it could take a year before any of the stores see them...
Anne-Marie
Ontario
Soutien-gorge coussiné sans armatures - ti Voglio
83.3