Parka Rain Jacket - In Every Story
https://www.penningtons.com/en/parka-rain-jacket---in-every-story/403808.html
Promotions
Brave the elements, rain or shine! This stylish plus-size rain jacket features:
- High neck with buttons
- Hood
- Drawstring at waist for adjustable fit
- Zippered pockets at chest, flap pockets at bottom
- Zipper closure with snap buttons
- Zippered openings at sides
- Coated twill nylon fabric
- Length: 35" at front, 38" at back
Machine wash, inside out, cold water, gentle cycle. Wash similar colors together.
Do not bleach.
Hang to dry.
Iron at low setting.
Dry clean.
Size Conversion Chart
Size
X
1X
2X
3X
4x
5X
6x
14
16
18
20
22
24
26
28
30
32
34
Bust
42

in

44

in

46

in

48

in

50

in

52

in

54

in

56

in

58

in

60

in

62

in

Waist
34

in

36

in

38

in

40

in

42

in

44

in

46

in

48

in

50

in

52

in

54

in

Hips
44

in

46

in

48

in

50

in

52

in

54

in

56

in

58

in

60

in

62

in

64

in
Size
X
1X
2X
3X
4x
5X
6x
14
16
18
20
22
24
26
28
30
32
34
Bust
107

cm

112

cm

117

cm

122

cm

127

cm

132

cm

137

cm

142

cm

147

cm

152

cm

157

cm

Waist
86

cm

91

cm

97

cm

102

cm

107

cm

112

cm

117

cm

122

cm

127

cm

132

cm

137

cm

Hips
112

cm

117

cm

122

cm

127

cm

132

cm

137

cm

142

cm

147

cm

152

cm

157

cm

162

cm
*6X available in select stores
HOW TO MEASURE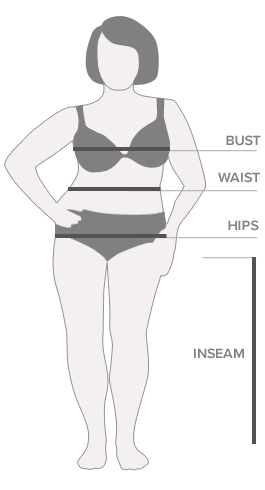 HEIGHT
Stand barefoot with a straight posture.
Regular - For women 5' 4" - 5' 7"
Petite - For women 5' 4" and under. Sleeves are slightly shorter. The body is adjusted proportionately throughout. Pant inseams are 3" to 4" shorter than regular (capris 2" shorter than regular).
Tall - For women 5' 7" and taller. Sleeves are slightly longer. The body is 1" longer. Pant inseams are 2" longer than regular.
BUST
Measurement does not pertain to bra size. Wrap a tape measure under arms, keeping the tape comfortably loose. Measure around the fullest part of the bust. Ensure that the tape measure is parallel to the floor.
WAIST
Keeping the tape measure comfortably loose, measure around the smallest area of your waist.
HIPS
With feet together and keeping the tape measure comfortably loose, wrap the tape measure around the fullest part of the hips.
INSEAM
Stand with your shoes on and measure from the crotch to the bottom of the shoe.
For best results, take measurements over your undergarments.
Always hold the tape measure comfortably loose.
mblm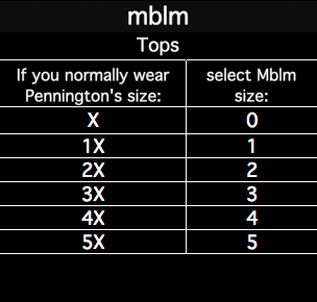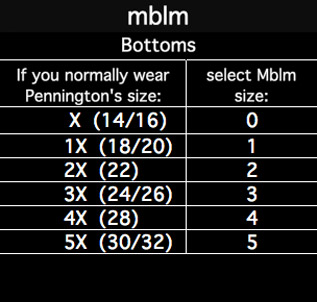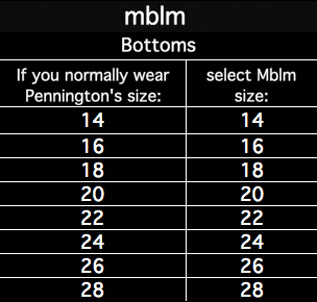 Melissa McCarthy's collection offers sizes that are designed differently than our Penningtons brand. Use our size chart to find your perfect fit!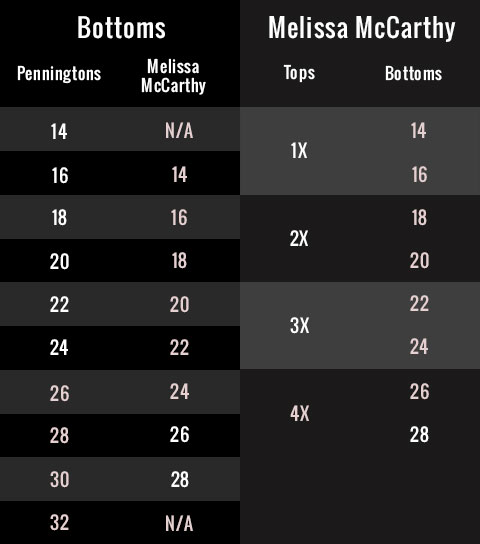 Ratings & Reviews
The length is good and love the colour and fit.
Shr
Eglantine ang wardennd
I had been looking for a jacket just like this for a while. It fits wonderfully, looks and feels great!
D
Vancouver
I purchased this coat in the bight pink, I think the first day it was in a store, and wore it to Italy in February with a big sweater under it. It broke the wind and kept me dry from the rain. Then in March to Ireland and again same coat sweater combo and we were in a driving rain one day and although it started to feel damp by the end of the day it kept me dry and warm. As with most water resistant fabric taking it off and putting it back on when wet allows the moisture barrier to break down. I threw it in the drier and and in 15 min it was dry and ready to wear again. The pockets are perfect and there are buttons on the hood to help contour it to your head so it doesn't flop in your face. I have considered buying it in black and if they offered it in white it would be mine as well. Maybe next year they will bring it back!
Andy
Fonthill, Ontario
I would buy this jacket again.
I love the Parka Rain Jacket ,I wear the jacket every where I go. The jacket is comfortable and light and everyone loves it. A friend of mine ask me where I got the jacket from cause she would like one. Pennington !
turtle
London Ontario
Perfect for spring, summer and fall!
I have been able to use this jacket a few times this week since it was rainy and wet snow, and only 5 degrees! It held up to the heavy rain and wet snow.
Hideebee
Halifax, NS
I have always loved everything from Pennington , their sizes and quality is perfect. If it's not in stores they will order for you
MA
Hamilton
I'm in love with this Jacket!!!!
I absolutely love this Jacket!!! I have it in the color ARMY GREEN and it's gorgeous!!! Don't get fooled by the picture it doesn't do it justice. The army green one doesn't shine like the other colors, to me that a plus Because i can wear it on a sunny day without people looking at me like why do you have a raincoat on hihi I bought mine 2 size bigger on purpose because I liked the way it looked and feel, and when I sit It's not to tight on the tight/butt.
Love yourself
Ottawa, on
Well made , basic spring jacket
Nice material and detailing. Although the sleeves are long enough for me , I found it had less ease through the shoulders in my usual size so bought one size up. I purchased my jacket with my birthday half price coupon but at full price would still be good value.
Jane
Woodstock
So worth it - cute AND practical!
I was drawn to the gorgeous pink colour, but the length and cut really sold this coat for me. Now that I have worn it for a while I can say it is everything I hoped it would be. It is eye catching and flattering, I can wear an extra layer underneath for this ridiculously cold spring we are having, and it is excellent in the rain. Today I was delighted to find the button feature on the hood that closes it in a bit for wind! It just keeps giving!
Mary
Nelson, BC
I liked my rain jacket just wish they would carry more in the store.instead of just having a couple in each size
Xxxx
Victoria bc