Plus-Size Sports Bra with Zip - ActiveZone
https://www.penningtons.com/en/plus-size-sports-bra-with-zip---activezone/402153.html
Promotions
$54.00
Offering medium support, this plus-size sports bra is ready to move with you! It features:
- Elastic, adjustable straps
- Zipper closure at centre-front
- Space dye garment wash
- Molded foam pads
- Racerback
- Breathable jersey fabric with mesh lining
- Made for medium support
87% polyester, 13% elastane
Imported
Hand wash, lukewarm water. Wash similar colors together.
Do not bleach.
Hang to dry.
Do not iron.
Dry clean.
CROSS SIZING
Cross sizing may be required if the style of bra that you are interested in is not available in your size. (Not suitable for every body. Depends on the breast and the shape.)
Cross sizing can differ depending on the customer's body type.
Customers with a thicker under bust section should cross-size up the band and reduce the cup size.
Customers with a fuller bust should size up the cup size, but reduce the band size.
Example: For a customer who wears size 42D if she has a thicker under bust section, the best cross-size should be size 44C. If she is fuller in her bust and not so thick in her under bust, the best cross- size would be 40DD.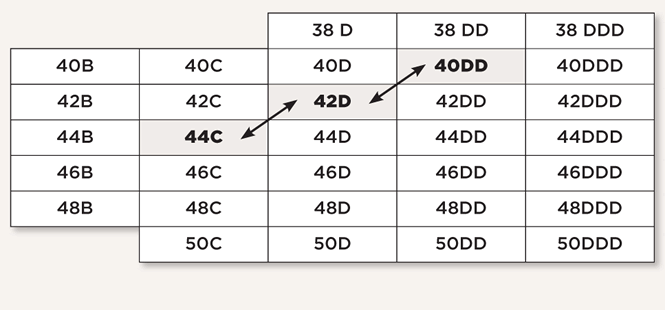 Ratings & Reviews
This product is excellent.
This sport bra is comfortable and well made.
Jo
Edmonton, AB
I really wanted this bra because of the zipper in the front. It's near impossible to find a bra that's easy to get on for someone with arthritis and fibromyalgia. Unfortunately this bra was too tight compared to other bras of the same size. Also the zipper wasn't an easy glide and the fabric too stiff. Choose a larger size, ladies.
Barbara
White Rock, BC
Love, love, love this sports bra! Not only is it comfortable and easy to get in and out of but it provides great support!
Jacquie
Saint John, NB
I needed a sports bra right away and this was my only choice available at the store with medium to high support. The zipper in the front is not my favourite; I find it very difficult to zip up (I'm large busted) and there is not enough support for me when I'm in my boxing classes. Having said all this, I don't want to deter anyone from trying it on or buying it. It is very comfortable and I will wear it for camping but not for working out.
KatieLG
Thunder Bay
Returned it. Not a good fit.
Monic
Ottawa, ON
Yes I would definitely buy this again
Love this bra! Love the zipper! Easy to put on love the support
Jaustin123
Chatham on
I would call this a medium impact sports bra and it fits me better than any other that I have tried. I ordered a second one and now I am set!!
Marie
Calgary AB
Right size and under-wire pain too tight
axelrose
Chelmsford
All my bras are now front opening.
This bra is a nice colour to go from darks to lights. However, do not try to wear it without lengthening the straps first, or you'll find your arms strapped to your sides, the cups jiggling under your arm pits, and no way to reach any part of the bra to pull it off! A helpful partner would be of great use in this emergency! After doing a jig (yes, bare breasted jiggling going on), which didn't help, it finally came off by using the fireplace poker. Phew!!!! I immediately lengthened the straps, problem solved!
Taya
Edmonton, Alberta
Comfy and cute. Love the zipper
This bra is comfy and provides medium support. I love the zipper in the front. I would buy this over and over. Super cute and provides decent coverage.
Wpgrl
Winnipeg, MB
ActiveZone - Plus-Size Sports Bra with Zip
66.7