Printed Off Shoulder Jumpsuit - In Every Story
https://www.penningtons.com/en/printed-off-shoulder-jumpsuit---in-every-story/406482.html
Promotions
$75.00
One step to total style! This plus-size jumpsuit blends comfort and style in an effortless way. From its soft jersey crepe fabric to its relaxed silhouette with wide leg shape and belted waist, it offers a flowing shape that suits every figure. You'll love its off-shoulder design with straps, short sleeves, as well as its practical side pockets. Inseam: 22 1/2"
95% polyester, 5% elastane
Imported
Machine wash, inside out, cold water, gentle cycle. Wash similar colors together.
Do not bleach.
Dry flat and reshape while still wet.
Iron at low setting on reverse side.
Do not dry clean.
Size Conversion Chart
Size
X
1X
2X
3X
4x
5X
6x
14
16
18
20
22
24
26
28
30
32
34
Bust
42

in

44

in

46

in

48

in

50

in

52

in

54

in

56

in

58

in

60

in

62

in

Waist
34

in

36

in

38

in

40

in

42

in

44

in

46

in

48

in

50

in

52

in

54

in

Hips
44

in

46

in

48

in

50

in

52

in

54

in

56

in

58

in

60

in

62

in

64

in
Size
X
1X
2X
3X
4x
5X
6x
14
16
18
20
22
24
26
28
30
32
34
Bust
107

cm

112

cm

117

cm

122

cm

127

cm

132

cm

137

cm

142

cm

147

cm

152

cm

157

cm

Waist
86

cm

91

cm

97

cm

102

cm

107

cm

112

cm

117

cm

122

cm

127

cm

132

cm

137

cm

Hips
112

cm

117

cm

122

cm

127

cm

132

cm

137

cm

142

cm

147

cm

152

cm

157

cm

162

cm
*6X available in select stores
HOW TO MEASURE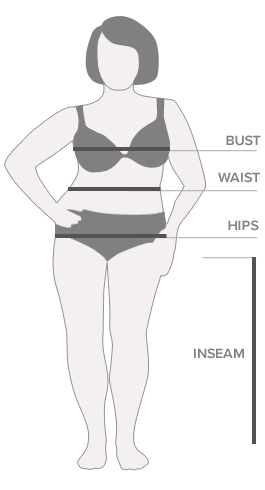 HEIGHT
Stand barefoot with a straight posture.
Regular - For women 5' 4" - 5' 7"
Petite - For women 5' 4" and under. Sleeves are slightly shorter. The body is adjusted proportionately throughout. Pant inseams are 3" to 4" shorter than regular (capris 2" shorter than regular).
Tall - For women 5' 7" and taller. Sleeves are slightly longer. The body is 1" longer. Pant inseams are 2" longer than regular.
BUST
Measurement does not pertain to bra size. Wrap a tape measure under arms, keeping the tape comfortably loose. Measure around the fullest part of the bust. Ensure that the tape measure is parallel to the floor.
WAIST
Keeping the tape measure comfortably loose, measure around the smallest area of your waist.
HIPS
With feet together and keeping the tape measure comfortably loose, wrap the tape measure around the fullest part of the hips.
INSEAM
Stand with your shoes on and measure from the crotch to the bottom of the shoe.
For best results, take measurements over your undergarments.
Always hold the tape measure comfortably loose.
mblm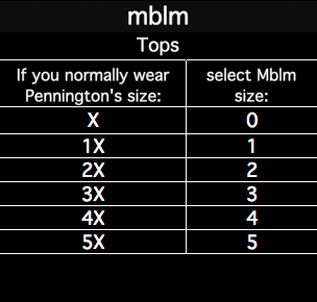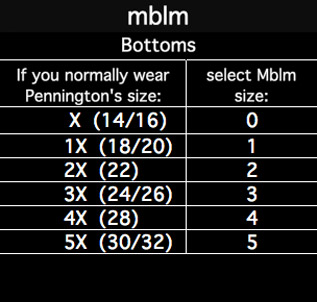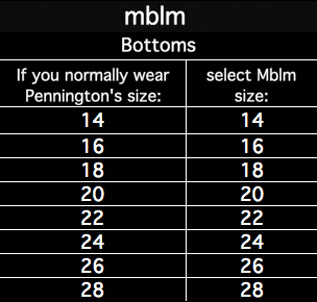 Melissa McCarthy's collection offers sizes that are designed differently than our Penningtons brand. Use our size chart to find your perfect fit!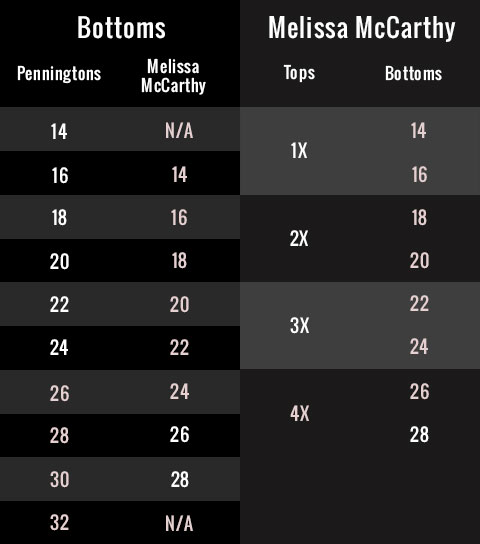 Ratings & Reviews
It was so pretty it caught my eye. Now I love it!
Crystal
Ontario
super cute and super comfy! love the colour and the fit. Only negative is its a little too long in leg for shorter women 5ft 4 in or less. Can dress it up or down for any occassion.
Sherbear0913
Ontario, Canada
Love this jumpsuit it is very comfortable. You can wear it anywhere to the office, date night, shopping. Dress it up or down and you are good to go.
CG
Ottawa
I bought this item for a family function that we are going to in August and I must say I am very happy with the way it looks. It is VERY flattering, and hangs nicely on my body. I can't wait to show it off to everyone :)
Rosemary
Keswick
Love the jumpsuit!!! Got many compliments on it!!! Fit great in the legs and everything
Annie
Halifax
Where has this been all my life
I have to admit I was a little sceptical when I purchased this. I have wanted a jumpsuit for a long time and was worried that it would look ridiculous on me. This was not the case at all! It fit perfectly and was so comfy I felt like I was wearing pyjamas! I wish it came in different colours as well and looks super cute with the tie belt but also with a regular belt gave it a bit more shape. The real bonus for me? It has POCKETS! I get many compliments on it every time I wear it! Love it!
wunderwoman15
Woodstock, ON
I am thrilled with this beautiful outfit. It fits loose and it is so comfortable. I am looking forward to the nice Spring weather. Lovely outfit that I can wear to work and out for a nice dinner or luncheon.
Stubbsy
Whitby, Ontario
LOVE IT! Finally Pennington's has a really nice item!
I am a large woman and have always loved jumpsuits but you can never find them for big woman. I seen this today and although pricey I wanted it. It fits great and looks great and very comfortable. Pennington's clothes have been terrible for the past 8 years. Garage grunge which is fine but I like to dress up in lace and frills and fancy clothes. I am not a grunge or flashy prints etc. This is something I can wear casual or dressed up. Come on Pennington's bring back your beautiful clothes that were stylish and feel good. MORE Jumpsuits with wide legs in pretty prints and nice solids. I bought a 3x which I didn't think would fit but with the roomy legs and big waist and top it fits and I love it. Big woman need openings and wide legs to get into. Just because we are heavy does not mean we don't like to look good!!!
ME
PEI
Not sure I love It, not meant for hippy women. I could have sized up but then it would be too big in the shoulders. Maybe rompers aren't meant for me. Would not recommend. Also the print was different on the romper. It's mostly black. Not as many flowers as pictured.
Not so pleased
Ontario
I love it! I got multiple compliments! I wear an actual bealt instead of the fabric one provided. It has pockets!! It's my first jumpsuit so it took some time to adjust. But I find it comfy and it looks just like the picture.
M
Ottawa, Ontario
Printed Off Shoulder Jumpsuit - In Every Story
92.9