Printed Swing Dress with Back Detail - In Every Story
https://www.penningtons.com/en/printed-swing-dress-with-back-detail---in-every-story/418893.html
Ouf, so cute and flattering! We're loving this plus-size dress from In Every Story featuring short sleeves, v-neckline in back with strap, and an all-over striped print. It also offers a swing cut that flatters your curvy silhouette. What's more? It's made with ultra-soft and comfy fabric that you'll love. Pair with a pretty pair of sandals and a jean jacket! Length: 39" at front, 38 1/2" at back
95% viscose, 5% elastane
Made in Canada
Alloy & Bright White: Online Exclusive Colors
Machine wash, inside out, cold water, gentle cycle. Wash similar colors together.
Do not bleach.
Hang to dry.
Iron at low setting on reverse side.
Do not dry clean.
Size Conversion Chart
Size
X
1X
2X
3X
4x
5X
6x
14
16
18
20
22
24
26
28
30
32
34
Bust
42

in

44

in

46

in

48

in

50

in

52

in

54

in

56

in

58

in

60

in

62

in

Waist
34

in

36

in

38

in

40

in

42

in

44

in

46

in

48

in

50

in

52

in

54

in

Hips
44

in

46

in

48

in

50

in

52

in

54

in

56

in

58

in

60

in

62

in

64

in
Size
X
1X
2X
3X
4x
5X
6x
14
16
18
20
22
24
26
28
30
32
34
Bust
107

cm

112

cm

117

cm

122

cm

127

cm

132

cm

137

cm

142

cm

147

cm

152

cm

157

cm

Waist
86

cm

91

cm

97

cm

102

cm

107

cm

112

cm

117

cm

122

cm

127

cm

132

cm

137

cm

Hips
112

cm

117

cm

122

cm

127

cm

132

cm

137

cm

142

cm

147

cm

152

cm

157

cm

162

cm
*6X available in select stores
HOW TO MEASURE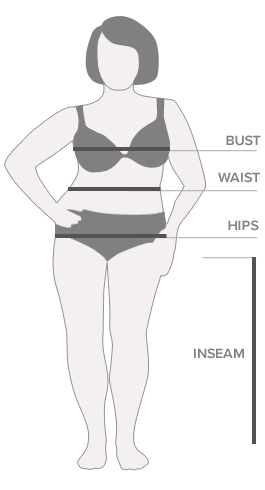 HEIGHT
Stand barefoot with a straight posture.
Regular - For women 5' 4" - 5' 7"
Petite - For women 5' 4" and under. Sleeves are slightly shorter. The body is adjusted proportionately throughout. Pant inseams are 3" to 4" shorter than regular (capris 2" shorter than regular).
Tall - For women 5' 7" and taller. Sleeves are slightly longer. The body is 1" longer. Pant inseams are 2" longer than regular.
BUST
Measurement does not pertain to bra size. Wrap a tape measure under arms, keeping the tape comfortably loose. Measure around the fullest part of the bust. Ensure that the tape measure is parallel to the floor.
WAIST
Keeping the tape measure comfortably loose, measure around the smallest area of your waist.
HIPS
With feet together and keeping the tape measure comfortably loose, wrap the tape measure around the fullest part of the hips.
INSEAM
Stand with your shoes on and measure from the crotch to the bottom of the shoe.
For best results, take measurements over your undergarments.
Always hold the tape measure comfortably loose.
mblm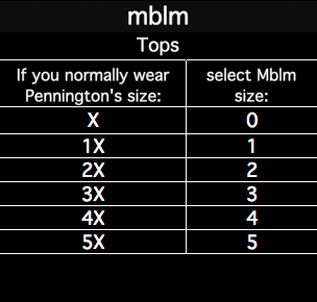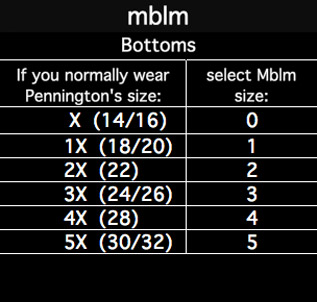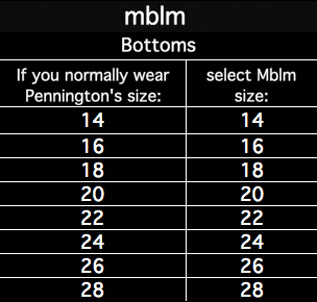 Ratings & Reviews
This dress is perfect. It feels like I'm wearing a nightgown but looks beautiful
Maureen
Niton Junction
Have two of these dresses! They are easy to wear and look great
RachieJo
Regina, Sask
Normally I wear 1x, but read a review that suggested a size smaller. Even x is too big. It lhas no shape. A x might work for someone normally 2x. It will be returned.
Lane
Toronto
The dress was not what I expected when I received it. It actually looks nicer on the model's picture than the real thing. In the model's picture, the dress looked like it had an hourglass shape at the waist. Nope. What I got was a dress that had no shape and was too big and too long. I always knew my size in this store was 1X but the red dress turned out to be to big.
K Magno
Ontario
One size too big. Going to order a size smaller as I love the style and fit and length.
A
Pickering
Nice dress. good for travel.
This looks nice on, although I was expecting it to be more "fit & flare" and to be a slightly heavier more expensive looking material. It was more like thin t-shirt material. In the picture it looks like a good professional work/office dress. It does look okay on though and it's very comfortable. I feel it would take up almost no room in a suitcase and come out wrinkle free... seems like it would be cool in hot weather and looks nice enough you could dress it up with accessories for a fancy dinner. All this seems to add up to a perfect dress for travelling.
Great for travel
Vancouver
I would consider this style again, but a different pattern.
Purchased for a special occasion in Septemer...have not yet worn it.
Tann
London Ontario
This is a real "buyer beware" for me. This dress is made of viscose (rayon) jersey with 4-way stretch. The fabric is actually a horizontal stripe but the pattern is cut on the bias to create the diagonal pattern. This creates a lot of additional stretch where no extra stretch should be, and causes the skirt part of the dress to twist around the hips and legs so the side seams never fall at the sides (very obvious because of the pattern) but down the front of one leg and the back of the other. Additionally, because of the fullness of the skirt, the bias cut caused the hem to stretch out of shape significantly during/after washing, so the dress needed to be re-hemmed. (Which I would have done anyway because of length, but in this case the stretching caused the hem to be horribly uneven, and not in a good way.) Cut on the large side, but the cheapish fabric shrunk during washing (even with clearly following washing directions), so much that while I originally thought it would need to be taken in at the sides, it fit better after washing. Tips: beware of potential shrinkage, wash a couple of times and hang to dry so the bias cut will stretch out before re-hemming. Expect to fidget a lot while wearing this as it twists around your hips.
Shirley
Toronto
Wore this to work today and received lots of compliments. I feel like it's a bit too big, but it's very comfortable and I know I'll wear it lots!
Kathy
Vernon BC
I love this dress and the fir is awesome. Like on line ordering and pick up in store too
Willie
Calgary
Printed Swing Dress with Back Detail - In Every Story
70.0