Printed Wirefree Bra with Lace Appliqué - ti Voglio
This is Eva: no wires, just a sleek silhouette! The stretchy nylon fabric and cushioned straps on this padded wirefree bra ensure everyday comfort and seamless shaping. It provides lift, breathability and support. Pairs perfectly with any plus size panty from our collection!
Features
- Microfibre
- Padded
- Wirefree
- All over print
- Lace trim on side cups
- Lace trim at cradle with scalloped edge
- Clean finish seam at centre front & straps
About ti Voglio
Constructed uniquely for the curvy figure and combining feminine confidence and detail, ti Voglio lingerie is made for women who love and deserve options. After all, it's what's underneath that counts.
85% Nylon, 15% elastane
Imported
Hand wash, lukewarm water. Wash similar colors together.
Do not bleach.
Hang to dry.
Do not iron.
Dry clean.
Please enter your measurements
CROSS SIZING
Cross sizing may be required if the style of bra that you are interested in is not available in your size. (Not suitable for every body. Depends on the breast and the shape.)
Cross sizing can differ depending on the customer's body type.
Customers with a thicker under bust section should cross-size up the band and reduce the cup size.
Customers with a fuller bust should size up the cup size, but reduce the band size.
Example: For a customer who wears size 42D if she has a thicker under bust section, the best cross-size should be size 44C. If she is fuller in her bust and not so thick in her under bust, the best cross- size would be 40DD.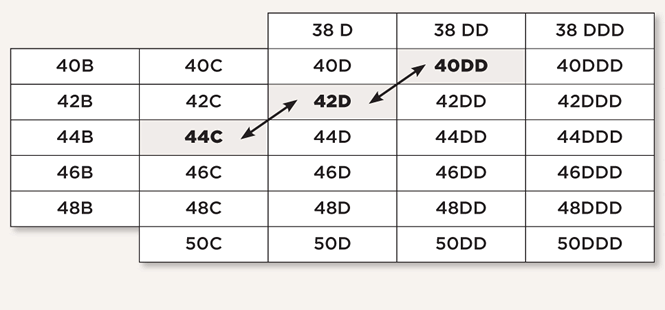 Ratings & Reviews
Side ribs dig into my side and cause bruising
Angie
Ottawa
My normal size is what l got but way too big and can't be returned because l have removed the tags.💔😒
Oj
Fort McMurray
Bought this one for comfort, lazy days, no underwire. Found it very uncomfortable, there are wires in the side which rolled up at the bottom and poked, the lace is not as soft as it could be.
Very Pretty but Dissapointing
CAlgary
Not much support in this bra. Wish Pennington's would carry full support bras with a full coverage cup, would definitely purchase if they did.
Claire
Orleans Ontario
Love the fit and comfort
Rosemarie
SARNIA
This bra is so comfortable and pretty. I love that it is wire free and still beautiful!! I'd love to buy another
Kat
Winnipeg
This is a beautiful bra that shapes me just right. I am a 46DD and wear Pennington's bras all the time but with this one I notice that the plastic bone they use to hold the side up is really sharp and digs in terribly - very uncomfortable. Of course I didn't notice it until after I'd worn it a couple of hours and so cannot return it. I am hoping this will improve as I wear it and it relaxes with age??? But it is very beautiful.
The Cat's Mother
PETERBOROUGH, ON
Pretty and comfortable all in one. Like the softer undrrwire.
PIK
Guelph Ontario
Well, I've found a bra that is unbelievably comfortable and pretty!!! I wish that it came in more colours as patterns!!! Best wireless bra EVER!
Dawn
Ajax
Looks great with the matching pair of panties. I always find that even if people don't see your pretty or sexy undergarments, it makes me feel prettier which in turn makes me look more confident!
MimiM
Orleans
Printed Wirefree Bra with Lace Appliqué - ti Voglio
50.0