Sadie Knee High Boots with Buckle Straps
https://www.penningtons.com/en/sadie-knee-high-boots-with-buckle-straps/412503.html
Western-inspired plus size Sadie boots rise up to the knees to flatter your calves. A low faux stacked heel offers stability, comfort and support when you're in a rush. The elastic back, elastic inserts and inside zipper closure make these boots easy to slip into and provide all day comfort. Included : stylish multiple buckles around the ankle with round studs.
Fit & Design Details
- Rubber sole
- Heel height: 1"
- Back shaft: 15"
- Ankle circumference: 11.5"
Shoe opening circumference;
Size 7W: 18 1/8"
Size 8W: 18 1/2"
Size 9W: 18 7/8"
Size 10W: 19 1/4"
Size 11W: 19 1/2"
Size 12W: 19 7/8"
100% Polyurethane
Imported
spot clean.
All sizes are in inchesmillimeters. View in millimetersView in inches.
Shoe Size
6
6.5
7
7.5
8
8.5
9
10
10.5
11
12
Length

9

230

9 ¼

235

9 ½

239

9 ⅝

244

9 ¾

248

9 ⅞

252

10

256

10 ½

265

10 ⅝

269

10 ¾

273

11 ⅛

282

Width

3 ½

88

3 ½

89

3 ½

90

3 ⅝

91

3 ⅝

92

3 ⅝

93

3 ¾

94

3 ¾

96

3 ⅞

97

3 ⅞

98

4

100

Ankle Circumference

10

252

10

252

10

254

10

254

10

254

10

254

10 ⅛

256

10 ⅛

256

10 ⅛

256

10 ⅛

256

10 ¼

256
HOW TO MEASURE YOUR SIZE: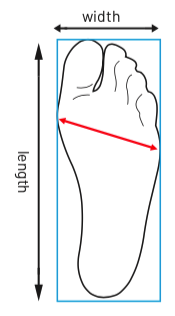 1. Remove shoes and socks, stand on a sheet of paper with feet comfortably aligned to each other at approximately shoulder width apart, and have your body weight evenly distributed between your fee.
2. Using a pencil, gently trace the outline of the foot onto the paper, ensure the pencil is kept vertical. The trace will be more accurately done by someone else.
3. Draw a straight line at the longest toe and at the heel, these two lines must be parallel of each other.
4. Draw a vertical line connecting these two parallel lines with the right angle (90 degree) is your foot length.
5. The foot width is measured by a straight line connecting the widest spot of your foot.
If your measurements fall between two sizes, move up to the larger size for a better fit.
Skechers main point of measurements
Skechers' wide-width sizes are made differently than the Penningtons brand. Click here to download and print our handy size chart for a convenient way to measure your size at home.
Ratings & Reviews
They look nice, fit well and are comfortable.
Silver
LaCorey, AB.
Definitely found that they fit well in the calf, and I usually struggle to find boots that do. Actually might have ended up a bit too roomy after stretching out a bit, as the shaft would pucker/buckle by the bottom of the zipper and painfully rub on my ankles! Not the worst part however. After about 3 months of wear (not daily) the heel fell off. Tried fixing it with shoe glue and it somewhat worked (was hoping until I found new boots) but then the heel of the other boot did the same thing. Can't win.
ambymarie
Nova Scotia
I've had these boots for 3 months and love them but they are already falling apart. 😢
Becky
British Columbia
Bought these back in October month and only worn to dress up and now the rubber is separating from the boot 😡
Not a happy customer
Port Hope Simpson
I would buy these in any color!
I needed boots that would accommodate my changed feet due to surgery. The toe box is high and roomy so I can wear them with my orthotics no problem. I work retail and these are my only footwear that I can be comfortable in all day. I have 2 pair already.
Nadine
Edmonton
Definitely not plus sized
The boots were adorable and tons of room in the foot bed which is a plus for me but unfortunately they are not plus sized boots. I couldn't do the zipper up all the way and the elastic in the back had no stretch. These went back
TangoJuliet
Windsor, Ontario
I would recommend these boot
I really like the way the boots fit.
Sheila
Canora, SK
Love them , perfect fit!!
It's so mice to have a pair of boots that fit my calves!!! Love them!❤️
Falena
Campbell's Bay Quebec
Fit just right - little smaller than other boots
I normally take a 8 1/2 so when I order 9 here they are usually to big, but 8 is too small. These are the first pair that fits just right and they are so comfortable. I wore them to work and then to a concert in the evening that involved some walking and they were so comfortable the whole time. My new favorite shoes. I have to have wide calf and theses are definitely wide enough for me.
Lisa
Langley, BC
I bought these boots and love the style , colour, and the wide fit in the feet. BUT - these are not wide calf boots. These will be returned and I am so disappointed.
PatC
Kitchener ON
Sadie Knee High Boots with Buckle Straps
62.5