Sports Bra with Front Zip, G & H Cups - ti Voglio
Designed for high-intensity activities, this plus size sports bra lets you move in comfort with maximum support. Also available in regular cup sizes.
Fit & Cut:
- Slip-on sports bra
- Padded
Straps & Hooks:
- Adjustable and convertible shoulder straps
- Sliders allow for ease of strap adjustment
Features:
- Sports mesh at neckline (double layer)
- Open-end zip closure at front
- Peek-a-boo at back
- Flat elastic all around
About ti Voglio:
Constructed uniquely for the curvy figure and combining feminine confidence and detail, ti Voglio lingerie is made for women who love and deserve options. After all, it's what's underneath that counts
82% Polyester, 18% elastane
Imported
Hand wash, lukewarm water. Wash similar colors together.
Do not bleach.
Hang to dry.
Do not iron.
Dry clean.
Please enter your measurements
CROSS SIZING
Cross sizing may be required if the style of bra that you are interested in is not available in your size. (Not suitable for every body. Depends on the breast and the shape.)
Cross sizing can differ depending on the customer's body type.
Customers with a thicker under bust section should cross-size up the band and reduce the cup size.
Customers with a fuller bust should size up the cup size, but reduce the band size.
Example: For a customer who wears size 42D if she has a thicker under bust section, the best cross-size should be size 44C. If she is fuller in her bust and not so thick in her under bust, the best cross- size would be 40DD.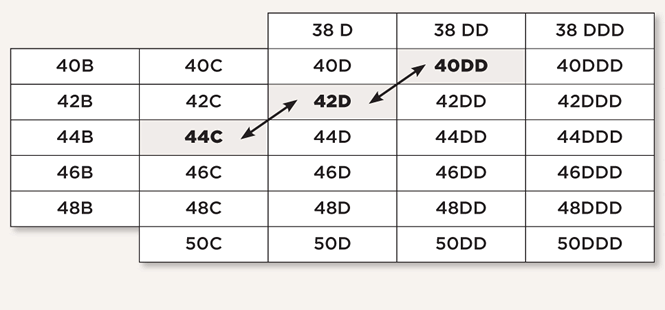 Ratings & Reviews
Fits true to size...
Smacki
Ottawa
Use at the gym..great for high impact workouts
Jana
Moncton
Great sports bra. Comfortable and great support for my needs. It is a bit tricky to get on the first time, would love to see other colours.
Becca
Datmouth
This is the most complicated bra. Separate/unattached wired cups on the inside, that have their own flimsy hard to clip clasp. Then two more on the zipper part, then the zipper. After all that work the support was not near as good as I hoped. Returned.
L
Manitoba
This bra is comfortable even with narrow straps
Finally an 46 H sports bra! It does what a sports bra is supposed to do and I recommend it for workouts. I tried wearing it all day but it wasn't any more or less comfortable than any other padded, full cover, underwire bra.
Chery
Ottawa
Amazing support, minimizing, super comfortable! I just purchased this bra, I'm back to buy a 2nd!
Amanda
Brandon
Sports Bra with Front Zip, G & H Cups - ti Voglio
83.3