Wide Laser Cut Slip-On Sneakers
The perfect on-the-go accent sneaker with a modern touch
that pairs with any outfit.
- Cut-out detail
- Elastic side gore
- Faux microsuede upper
- Padded insole*
- Rubber outsole
- Synthetic lining
- Outsole height: 1.20"
*This 6mm insock was designed for added comfort using 3 distinguished layers. The 1st layer is made of breathable materials, the 2nd layer uses memory foam for ultimate sensation reducing local pressure and fatigue, while the 3rd layer is made of latex density foam which absorbs shock impact on the foot, supports the body by distributing the propulsive (push-off) force over a large area and protecting it from high forces created during movement.
upper: faux microsuede; outsole: rubber
Imported
spot clean.
All sizes are in inchesmillimeters. View in millimetersView in inches.
Shoe Size
6
6.5
7
7.5
8
8.5
9
10
10.5
11
12
Length

9

230

9 ¼

235

9 ½

239

9 ⅝

244

9 ¾

248

9 ⅞

252

10

256

10 ½

265

10 ⅝

269

10 ¾

273

11 ⅛

282

Width

3 ½

88

3 ½

89

3 ½

90

3 ⅝

91

3 ⅝

92

3 ⅝

93

3 ¾

94

3 ¾

96

3 ⅞

97

3 ⅞

98

4

100

Ankle Circumference

10

252

10

252

10

254

10

254

10

254

10

254

10 ⅛

256

10 ⅛

256

10 ⅛

256

10 ⅛

256

10 ¼

256
HOW TO MEASURE YOUR SIZE: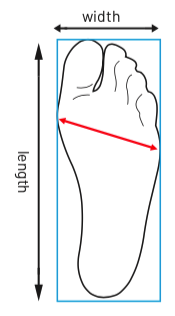 1. Remove shoes and socks, stand on a sheet of paper with feet comfortably aligned to each other at approximately shoulder width apart, and have your body weight evenly distributed between your fee.
2. Using a pencil, gently trace the outline of the foot onto the paper, ensure the pencil is kept vertical. The trace will be more accurately done by someone else.
3. Draw a straight line at the longest toe and at the heel, these two lines must be parallel of each other.
4. Draw a vertical line connecting these two parallel lines with the right angle (90 degree) is your foot length.
5. The foot width is measured by a straight line connecting the widest spot of your foot.
If your measurements fall between two sizes, move up to the larger size for a better fit.
Skechers main point of measurements
Skechers' wide-width sizes are made differently than the Penningtons brand. Click here to download and print our handy size chart for a convenient way to measure your size at home.
Ratings & Reviews
Comfy on the feet, light feeling... love the wide width...
Cheryl
Winnipeg MB
They feel quite lengthy even though I always take the same size in shoes.
Melissa
Montreal
Had to return these shoes. they are very cute but certainly not a wide fit shoe. i was very disappointed.
vp4
cranbrook
I read one review which said to go down a half size, which I did. I've only tried them on not worn. I tried them barefoot and found them to be a little big. Will try with socks and see if that helps. Otherwise, I like them. I like the laser cut.
minski13
Calgary
Very comfortable and stylish! Love them!
KJB
Ajax
I am buying another pair on payday!
I bought these shoes for spring. I recently had surgery on my ankle and these shoes are so comfortable. They are cute and can be worn with a sundress.
Trish
Edmonton
I love them I bought 3 colours but as I wore them the foam in the sole squished and now my foot rubs on the exposed edges. Maybe a better quality foam that last longer then a week of wear.
Candice
Kitchener, Ontario
I wear a size 10 , I tend to swell so I look for the elastic inserts on the top of the shoe to give me extra stretch . This shoe I find does not fit on the larger side and even thou it's a wide width I can see on my swelling days I might find it difficult to put on . I wish Pennington's would bring back the similar styled shoe but with a softer cotton material that they use to sell , they fit better with more give .
Jenn
Montreal
I wear a wide width, and this shoe is TIGHT. I feel it will stretch, so I've got my fingers crossed.
DM
British Columbia
What a cute and comfy casual shoe! Love the neutral colour and the graphic interest of the laser cut design. Can't wait for the snow to go away, so I can wear them =D
OhhhShea
Vancouver BC
Chaussures décontractées avec détails de découpe, pieds larges
81.8