Wide-Leg Cropped Pant
A pair of slightly curvy plus size cropped wide pants for everyday wear. They sit comfortably at the waist and are made of a soft tencel fabric for easy mobility.
Features
- Wide leg cropped pant
- High-rise
- Elastic waist in the back
- Flat front waist with zipper and button fly
- Removable sash belt
- Soft Lyocell fabric
- 24-in inseam
Machine wash, inside out, cold water, gentle cycle.
Do not bleach.
Hang to dry.
Iron at low setting.
Dry clean.
Size Conversion Chart
Size
X
1X
2X
3X
4x
5X
6x
14
16
18
20
22
24
26
28
30
32
34
Bust
42

in

44

in

46

in

48

in

50

in

52

in

54

in

56

in

58

in

60

in

62

in

Waist
34

in

36

in

38

in

40

in

42

in

44

in

46

in

48

in

50

in

52

in

54

in

Hips
44

in

46

in

48

in

50

in

52

in

54

in

56

in

58

in

60

in

62

in

64

in
Size
X
1X
2X
3X
4x
5X
6x
14
16
18
20
22
24
26
28
30
32
34
Bust
107

cm

112

cm

117

cm

122

cm

127

cm

132

cm

137

cm

142

cm

147

cm

152

cm

157

cm

Waist
86

cm

91

cm

97

cm

102

cm

107

cm

112

cm

117

cm

122

cm

127

cm

132

cm

137

cm

Hips
112

cm

117

cm

122

cm

127

cm

132

cm

137

cm

142

cm

147

cm

152

cm

157

cm

162

cm
*6X available in select stores
HOW TO MEASURE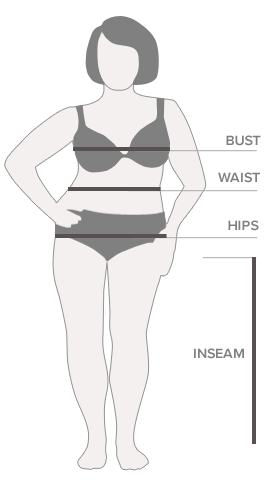 HEIGHT
Stand barefoot with a straight posture.
Regular - For women 5' 4" - 5' 7"
Petite - For women 5' 4" and under. Sleeves are slightly shorter. The body is adjusted proportionately throughout. Pant inseams are 3" to 4" shorter than regular (capris 2" shorter than regular).
Tall - For women 5' 7" and taller. Sleeves are slightly longer. The body is 1" longer. Pant inseams are 2" longer than regular.
BUST
Measurement does not pertain to bra size. Wrap a tape measure under arms, keeping the tape comfortably loose. Measure around the fullest part of the bust. Ensure that the tape measure is parallel to the floor.
WAIST
Keeping the tape measure comfortably loose, measure around the smallest area of your waist.
HIPS
With feet together and keeping the tape measure comfortably loose, wrap the tape measure around the fullest part of the hips.
INSEAM
Stand with your shoes on and measure from the crotch to the bottom of the shoe.
For best results, take measurements over your undergarments.
Always hold the tape measure comfortably loose.
Ratings & Reviews
Way to light of a material and horrible fit no give what so ever
Dd
Edmonton
These pants fit very small, even after I had ordered 2 sizes up hoping that would do the trick. No luck. Too bad because they are super cute.
Susan
Hamilton
I'm loving these jeans! They are soft like butter and so comfy! The wide leg is more comfortable than skinny or form fitting jeans for me...I'll definitely buy again!!
Tara
Thunder Bay, ON
I read the reviews left by others and was prepared to go up a size when I tried these on. As many others have stated, the fit is a bit different and I did have to go up to get the look I wanted. The fabric hangs nicely and they are super comfy. Only gave 4 stars because of the need to "upsize".
Jan
BC
Fit very oddly. Had to return.
These pants were oddly tight in the waist for a baggy pant. Very uncomfortable.
Anita
Edmonton
Light weight, great for summer
Like the wide leg, not too sure when ordered, very comfortable
Jeje
Welland, Ontario
I saw these online for a great price, but after reading the reviews, decided to go and try them on in person. I'm glad I did because not only did my regular size not fit me, the next size up barely went over my hips and two sizes up is still a bit snug at the waist. They also have the issue that I find a lot of "curvy"" pants have, where they dig in in he front but are loose in the back. After sitting down in them for a minute or so, they loosened up enough to not look super tight, but I definitely recommend going at least two sizes up, and three if you like a comfortable, loose fit.
Hannah
Ottawa, ON
I fit a 6X loosely. Most of my wardrobe is 5X but I found the size 32 was so tight I'm returning it. No chance for getting a larger size for me. They fit like a stretched out 4X.
Sherry
Windsor Ontario
Ok ladies first of all, if you're wearing these on a hot muggy day and you're sweating.... these pants will show it. I literally had to wet smiles under my butt cheeks and behind my knees and in between my thighs where I was sweating. Cause the fabric is thin. It almost looked like I peed myself at one point! I wanted to love these because they are cute, but..... They're also that type of material that if you're sitting for any length of time they're completely wrinkled and it looks awful. I went with everyone's suggestions to size up but I don't think I should have cause after wearing them for awhile they became very loose and baggy. I wish I had of gotten my regular size. Just not a great item overall.
KillerKitty
Dartmouth, NS
Even though I bought my proper size and the next 2 sizes up, I'm still not able to wear them. They are very snug at the hips and waist.
Sue
Ottawa, ON
Wide-Leg Cropped Pant
53.3