Strapless Multiway Bra
Promotions
$65.95
Variations
30% off applied

Price may vary by colour.

Size:
A must under strapless tops, party dresses and all your most daring necklines. This sexy plus size bra is so sensual and classic. Show off your luminous skin in a dramatic and beautiful lingerie look. Pair it with a matching panty. Available in G and H cup sizes.
Fit & Cut:
- Underwire support
- Flat underwire features double coated tip, wrapped in 3 ply casing to reduce poke through
- Molded padded cups for natural shaping
- Silicone strips at cup edge hold all in place
- Lace wings lined with power mesh feature silicone strips to eliminate slippage
- Mobilon tape at top and bottom wings
- Side boning reduces band rolling
Straps & Hooks:
- Straps convert to regular halter, plunging halter, cross back or strapless - meeting all wardrobe needs
- Adjustable straps with limited stretch reduce bounce
- Graded straps for ultimate support
- Multiple strap settings for perfect fit
- Hook and eye closure for a secure, comfortable fit
- High quality metal rings & sliders allow for ease of strap adjustment
Features:
- Smooth fabric
- Delicate scalloped lace wings & center gore
- Comes with additional clear straps in a plastic bag
83% Nylon, 17% elastane
Imported
Find Your Bra Size
Enter your measurements below and discover
your perfect size.
Please enter your measurements
Cross Sizing
If a style does not fit you perfectly, you should consider cross sizing.
(Not suitable for every body, depends on the breast and the shape.)
Cross sizing can differ depending on your body type.
If you have a larger under bust section, size up the band and reduce the cup size.
If you have a fuller bust, size up the cup size, but reduce the band size.
Example: If you wear a size 42D, but have a larger under bust section, the best
cross-size would be size 44C. If you are fuller in the bust and not so large in the under bust, the best cross-size would be 40DD.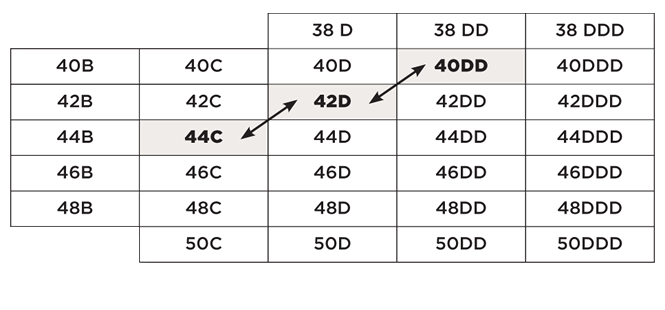 Ratings & Reviews
fits well
Lorna
Chilliwack
This is my second time purchasing this bra. I'm a 44/46 B and the first 2 bras I purchased were 44 B. After my pregnancy now, I am a 46 B…. When I received my 2 new bras yesterday the sizes are WAY off. Who is making these??? Size B isn't a B it's a D (evident when comparing with my old bras from previous purchase) and the 46 length is the exact same length as my 44….. horrible, I use to love this bra.
Disappointed customer
Kitchener
The cup size is for a D or DD. All the 44 inch bras have huge cups. I don't recommend this bra for anyone with small breasts
Jenny
Calgary, AB
Best Bra I have ever owned
I bought this bra in white to wear under my wedding dress. I needed a full coverage with padding and strapless. The bra was recommended by a wonderful, friendly and helpful Rep at Pennington's - Heartland (Mississauga). The bra fit great and was comfortable all day! Thanks for making my day so special.
amck1010
Mississauga
I thank the salesgirl for helping me with the proper sizing.
Avis
Hamilton ON
This is one of the most comfortable bra I have purchased. I think it is because of the four hooks.
Pat
Abbotsford, B.C.
Love the bra but every time I wear it the straps come undone. I have bought this exact bra and size and never had a issue now both new ones do it
Sandy
Mount Forest
Fairly average strapless bra
So far it's alright. I wish there was a little bit of push up action to this bra. Not sure why there is a strap inside the cups
Jules
Edmonton AB
I love the way this bra looks and the ladies stay up but the lace at the bottom of it sometimes irritates me. That bottom lace was not needed.
Keri
Barrie, On
I needed a strapless bra - this is a great option
I am normally a 38DD but I bought a 40 and it is a touch tight, but it's brand new and it's strapless so this will work for what I want it for
J
North York
Strapless Multiway Bra
72.2