Bra FIT checklist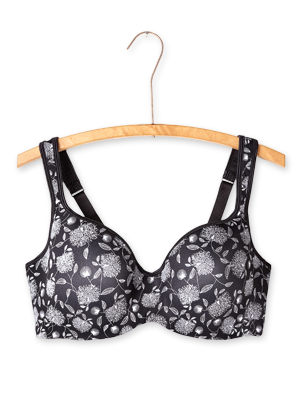 The bra should be snug but not too tight around the body. You should be able to slide one finger under the band.
The bra should be attached on the middle hook.
The center front gore (center panel) of the bra should lie flat against the breastbone. Otherwise, the cups may be too small.
The straps should be adjusted to support comfortably without pressure or cutting into the skin.
The breast should not spill over the top or sides of the cup. This indicates that the cup may be too small. The breasts should be positioned midway between the shoulder and elbow. The cups should fit smoothly. Gaps or puckering indicate that the cups are too large.
The back (band) of the bra should stay put and not ride up on the back. If this happens, it indicates a large band size. If the band rolls, you may need a style with a wider band.
« petite » customer :
Full coverage bras have long underwires, contouring the entire breast, which could dig into the underarm. Try a demi cup bra which has a shorter underwire for a more comfortable fit.
The bra should feel COMFORTABLE for your proportions.