Unlined Lace Bra - Déesse Collection
Promotions
$55.00
Variations
30% off applied

Price may vary by colour.

Size:

36B
Formerly adored as Femme Couture, this seductive plus size unlined bra is perfect for your most elegant looks.
Fit & Cut:
- Underwire
- Unpadded cups
Straps & Hooks:
- Adjustable straps
- Sliders allow for ease of strap adjustment
- Hook and eye closure for a secure, comfortable fit
Features:
- Flat seams
- Smooth lace disappears under clothing
- Satin bow
- Peek-a-boo center
65% Nylon, 22% polyester, 13% elastane
Imported
Find Your Bra Size
Enter your measurements below and discover
your perfect size.
Please enter your measurements
Cross Sizing
If a style does not fit you perfectly, you should consider cross sizing.
(Not suitable for every body, depends on the breast and the shape.)
Cross sizing can differ depending on your body type.
If you have a larger under bust section, size up the band and reduce the cup size.
If you have a fuller bust, size up the cup size, but reduce the band size.
Example: If you wear a size 42D, but have a larger under bust section, the best
cross-size would be size 44C. If you are fuller in the bust and not so large in the under bust, the best cross-size would be 40DD.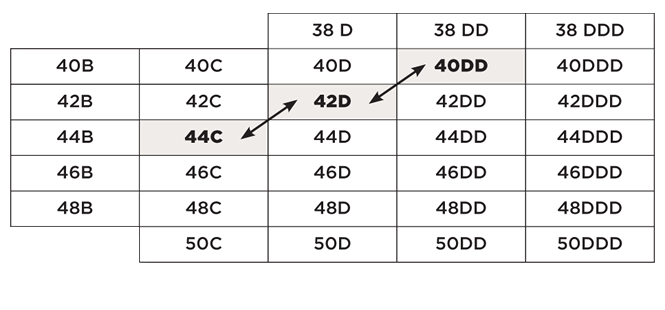 Ratings & Reviews
Very comfortable and love the new colours. It's the only bra I wear.
MD
Markham, on
This bra fits me like a glove. It's so comfortable and I love how it looks on me. I feel so confident when I wear it. My only issue with it is the last one I owned had a wire poke through under the armpit after not too long, hopefully that was only an issue with that one bra.
Kristina
Calgary, AB
I have been ordering this bra for years
I wear this under everything tops shirts dresses ....
Deborah
Ontario
Really comfortable and really cute, highly reccomend!
A.S
Nanaimo
I hate shopping for bras! However when I shop at Pennington's they always have something comfy that doesn't cost an arm and a leg. The style is flattering and material is soft not rough like some lace. I love my new bras 😘
Debbie
Thunder Bay
I love this style of bra!!! I have it in every colour. (except white) It is very comfortable and I like the feel of the fabric, it's not itchy like some lace can be. Nothing digs in and it stays in place. I don't have a very big chest (40DD) and I still like how it looks on me. (I have wide, dense breasts.) I guess it depends on your confidence. I am at a point in my life, that if I like it, I am going to wear it. Sexy, lacy, romantic, natural looking. I love the matching breif as well. As long as they keep supplying this bra and panty set I am going to keep buying it in every colour. If they made a padded version I would definitely give it a try too. MORE COLOURS PLEASE!!!
Mcfluff
London, Ontario
This is the best fitting bra I have ever had! It is beautifully made and very feminine and sexy. I have 3 of them. I would highly recommend!
Col
Port Coquitlam BC
Can't wait for this bra to come out in more new colors. I already have the Aubergine, Black, Nude, Orange, Navy, and pink. I would love if the matching underwear was better... I really like the ones that cover what needs to be covered. LOL.
Brenda
Stephenville, NL
I wld be this again in different color
Love the style and how it fits…..
Deb
Mcleod
You can't go wrong with a lace bra. Great support and look. Fit is perfect and looks great under most tops
Doug
GTA
Unlined Lace Bra - Déesse Collection
100.0